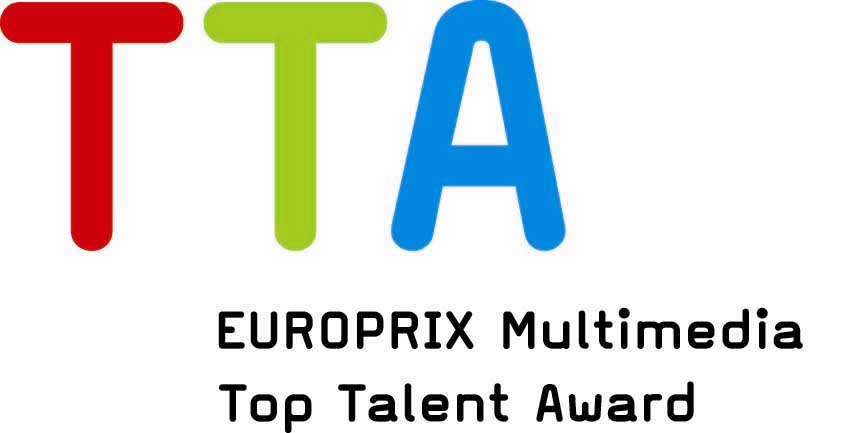 Press Release
International Center for New Media
Moosstrasse 43a
A-5020 Salzburg
Austria
Vienna, March 7th, 2006
Multimedia makes a million guitarists rock -
Finnish web application wins EUROPRIX Top Talent Award
The Finnish web application Guitar Shred Show (www.guitarshredshow.com) cleared the EUROPRIX Top Talent Award with winning the top three prizes of overall winner, the Multimedia Music Content Fusion Award and a victory in the hotly contest Broadband/Online Category.
2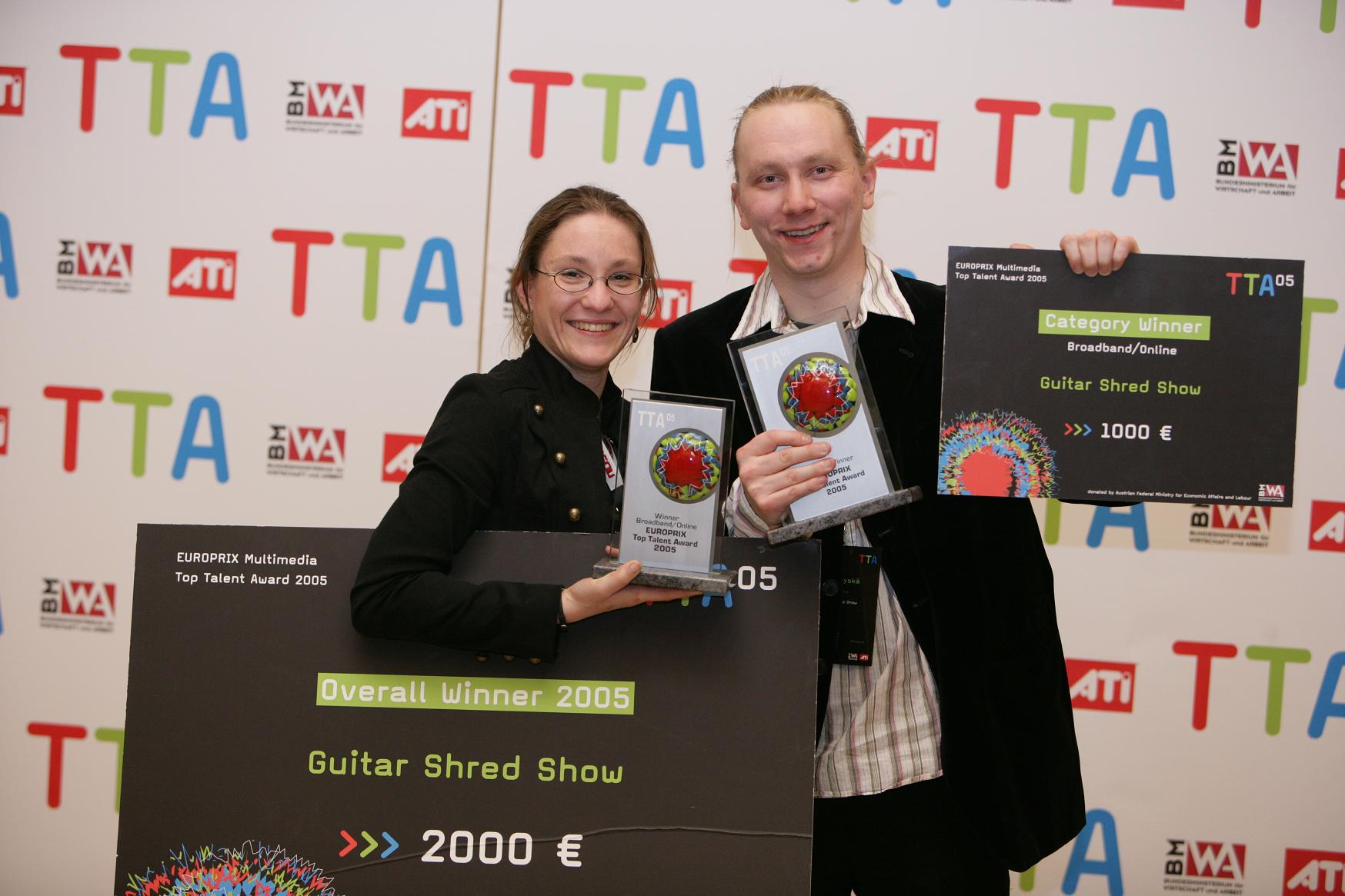 4 year old multimedia developer Mika Tyyskä created with Mr. Fastfinger an icon which attracts millions of users on the internet. The art and secrets of playing a rock guitar are taught quickly and users can jam on the keyboard or embark on a journey of wisdom to become a guitar god by learning from Mr. Fastfinger. An international jury selected Guitar Shred Show from among 411 entries from 30 European countries for the innovative combination of digital storytelling with interactive technologies and thus taking internet users straight into guitar heaven.
A total of 11,000 Euros was shared by the winners at the EUROPRIX Top Talent Gala – Europe's undisputed New Media Oscars for young creative producers, designers and developers.
The awards are organised by the International Center for New Media with the support of the Austrian Ministry of Economic Affairs, leading graphics technology company ATI, 80 partner organisation in every European country and the enthusiasm of young creative multimedia people all around Europe.
The Top Talent Festival and Gala were attended by more than 800 people from business, the creative industry, research and training institutions.
Broadband/Online:
Winner: •Guitar Shred Show – Mika Tyyskä, Lahti Polytechnic, Institute of Design (FIN)
Runners-up: •Amazing Croatian Fauna - Gorjan Agacevic, Design studio (R)evolution (CRO)
•Glassbox – Emmanuel Fréard, Paris 8 University (F)
Offline/DVD:
Winner: •Pantha Rei – Judit Erdélyi, Hungarian University of Art and Design (HU)
Runners-up: •Medianatomy – Kamen Anev, Hungarian University of Art and Design (HU)
•Sitka – Artur Jaros, Uniwersytet Wroclawski (PL)
Mobile Contents:
Winner: •APCompass – David Wiltshire, University of Plymouth (UK)
Runners-up: •iCoach – Andrew Devlin, Bournemouth University (UK)
•RealReplay - GPS racing on your mobile phone – Andreas Jakl, FH Hagenberg (AUT)
Games:
Winner: •Neon Racer: Augmented Gaming – Markus Weilguny, FH Hagenberg (AUT)
Runners-up: •Air Guard – Lubor Kopecky, SleepTeam Labs (CZ)
•The Farm (Episode one) – Benedict Webb, Bournemouth University (UK)
Content Tool and Interface Design:
Winner: •Coeno One – Jakob Leitner, FH Hagenberg (AUT)
Runners-up: •Supreme Auction – Carlo Blatz, Powerflasher GmbH (GER)
•Virtual Air Guitar – Teemu Mäki-Patola, Helsinki University of Technology (FIN)
Interactive Computer Graphics:
Winner: •Strip Generator – Ziga Aljaz, Academy of Fine Arts, Ljubljana (SLO)
Runners-up: •Randart DNS – Christian Male, FH Salzburg, Studiengang MultiMediaArt (AUT)
Interactive TV & Video:
No nominations in this category.
Cross Media:
Winner: •Memory – Martin Bricelj, KD CodeEp (SLO)
Runners-up: •Jumping Rope – Orna Portugaly, Daphna Talithman & Sharon Younger, Camera Obscura School of Art (ISR)
•Mirror_SPACE – Brigitta Zics, Academy of Media Arts Cologne (GER / UK)
ATI Special Award:
Winners: •195/95 – Michal Staniszewski, University of Lodz, Department of Mathematics (PL)
•Car Demonstrator – Alexander Peschke, Fachhochschule Salzburg (AUT)
Thesis Award:
Winner: Steven Blythe – "My Social Fabric"
Runners-up: Louise Gumbrell – "Txt2Tug"
Wendy Ann Mansilla – "Evaluation of Emotion and Acousmêtre for Suspense in an Interactive Virtual Storytelling Environment"
TTA – showcasing Europe's creativity with multimedia in all channels
"Our mission at the TTA is to raise awareness for what young multimedia creatives across Europe can achieve, not in the future, but right now," says Peter A Bruck, Head of EUROPRIX. "At the Top Talent Festivals, the general public is surprised and amazed by the way our nominees fill empty technologies with sparkling life – with content that is fun and useful at the same time. Sensors become eyes. Phones give directions. Or DVDs make you sing. There are just no limits."
Eight multimedia categories for the EUROPRIX Top Talent Award (TTA
An initiative to select and promote the best and most creative multimedia projects all over Europe that focus on high-quality content and design, the TTA has eight categories – plus several special awards. The winners – including the winner of the "Thesis Award" – will be announced at the Top Talent Festival in Vienna in March 2006, a networking event where young multimedia creatives meet business representatives. For more information on the TTA, please go to: www.toptalent.europrix.org.
International Centre of New Media – Europe's World Center for best e-Contents
The TTA has been initiated by ICNM president Peter A. Bruck and is being organised by the International Centre for New Media, based in Salzburg, Austria. The ICNM is a non-profit organisation that aims at selecting and promoting best practice projects in multimedia. It is running among others also the World Summit Award for e-conent and creativity in 168 coutires with the support of United Nations' organisations.
For more information on the ICNM, please go to: www.icnm.net.
Contact Details
If you would like any further information, please contact:
Rainer Steindler
Project Manager Top Talent Award
t: +43.662.630408
EUROPRIX Top Talent Office
ICNM – International Centre for New Media
Moosstrasse 43a
A-5020 Salzburg, Austria